Fritz Schumacher & Heinrich Tessenow
Architecture, an Art or a Craft?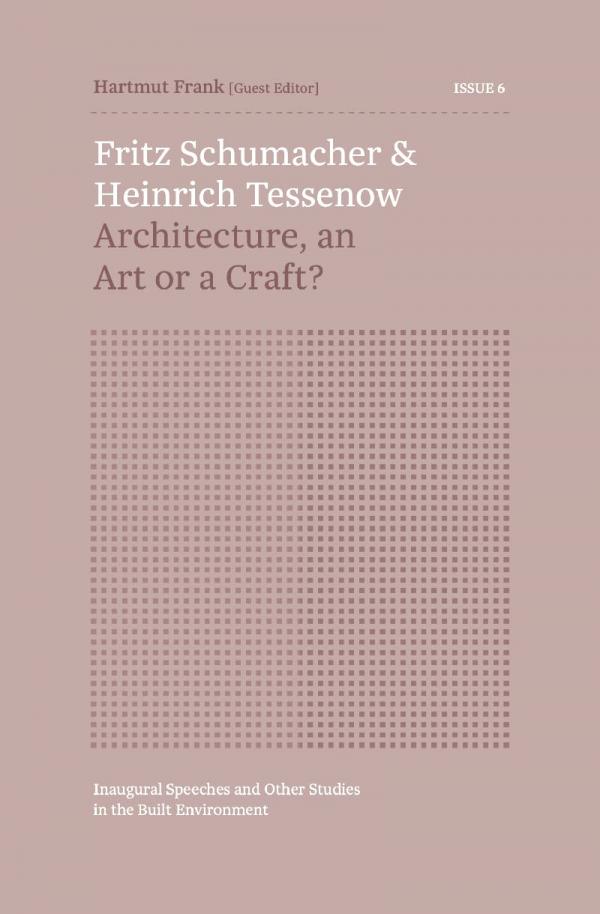 Synopsis
This series includes both Inaugural Speeches and other studies that deal with the built environment and that have a strong historical point of departure. The Chair of History is the driving force behind the series.
Inaugural speeches have long been unique moments in the careers of academics in many countries: As an important moment in the career they offer a moment to pause, to reflect, and to envision new approaches. Planners and architects in particular have used such speeches to tie together insights into design work and education and to offer a programmatic view on their own operating within the academic community. Prepared with great care for a university and general audience, inaugural lectures also offer later researchers insight into the thoughts of these scholars at a specific moment in time. Material gathered for and notes written on the occasion of these lectures can help such researchers understand the work habits and thought processes of their authors, perhaps even their relationships with colleagues and students. This series offers inaugural lectures - translated into English and contextualized with scholarly introductions – and other seminal studies to unlock information for comparative research and set the stage for new investigations. The expanded series continues with the inaugural speeches of the German architects Fritz Schumacher and Heinrich Tessenow. Although they were held at different institutions, both speeches were given at Dresden. For Schumacher it was, more or less, the beginning of an interesting career, for Tessenow it meant the return to Germany after that he had taught some years in Austria. Both had made a name for themselves. Especially Schumacher was a well-known figure in the Dutch architectural world due to the exhibition of his work that was held in the Hague in 1922. He was in contact with many Dutch colleagues and visited J.J.P. Oud in Rotterdam. Also Tessenow came to the Netherlands and was shown the Hoek van Holland complex of J.J.P. Oud by the architect himself. The speeches are introduced by an essay of Hartmut Frank.
Keywords:
Fritz Schumacher, Heinrich Tessenow, landscape architecture, Art, Craft
Copyright (c) 2022 Hartmut Frank
License
This work is licensed under a Creative Commons Attribution 4.0 International License.
Details about the available publication format: PDF
ISBN-13 (15)
978-94-6366-600-8
Date of first publication (11)
01-09-2022
Physical Dimensions
133mm x 203mm