Eighth Annual Conference
The Observers Observed
Architectural Uses of Ethnography
Downloads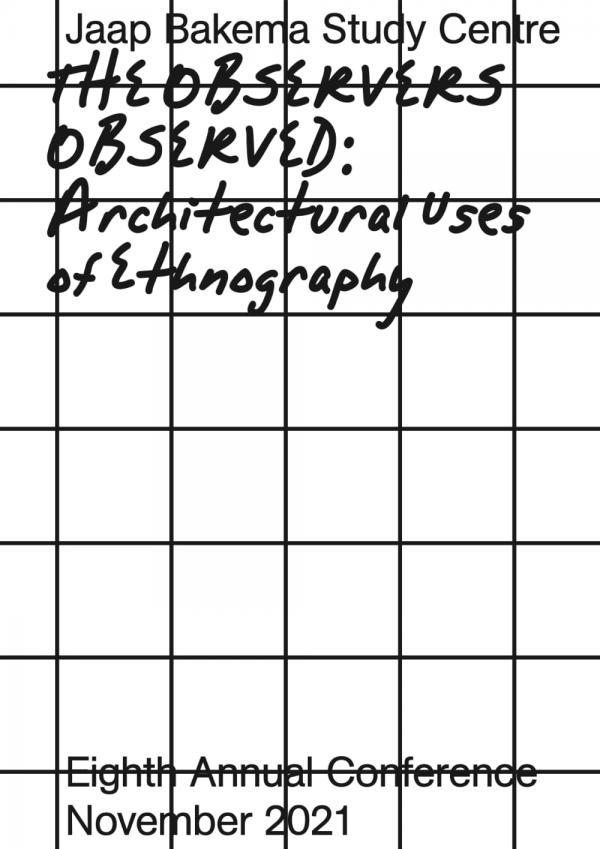 Synopsis
Eighth Annual Conference November 2019 - Jaap Bakema Study Centre
To put together the programme for our annual conference has always been exciting and challenging. Part of the process is to formulate the thematic and call for papers, to review the incoming proposals of colleagues, design the session panels, and invite special guests and keynote speakers. For the eighth edition of the Jaap Bakema Study Centre Conference, the question of ethnography in architecture was quite a natural choice in hindsight. It emerged from educational concerns at our university in Delft, just as it ties in with new archival research projects at Het Nieuwe Instituut in Rotterdam around questions of decolonising our heritage and architectural collection, and socio-ecological concepts in the current architecture and urbanism discourse. The conference also naturally builds on earlier projects realised by the Jaap Bakema Study Centre, TU Delft and Het Nieuwe Instituut, including the exhibitions 'Structuralism' of 2014 and 'Habitat: Expanding Architecture' of 2018.
The conference would not be possible without the help of many people. It was organised by a working committee, which included my colleagues Nelson Mota and Vanessa Grossman who work with me in the Dwelling chair and develop the special Global Housing programme, postdoc researcher Alejandro Campos Uribe, and PhD-candidates Rohan Varma and Fatma Tanis, who is also the coordinator of the Jaap Bakema Study Centre. The Advisory Board and its members Tom Avermaete, Hetty Berens, Maristella Casciato, Carola Hein, and Georg Vrachliotis helped and supported the committee throughout the reviewing and selection process. In conclusion, I would like to thank everyone for their work, just as I want to express my gratitude to the participants, the authors of the papers included in these proceedings, and to the two involved institutions, the Faculty of Architecture and the Built Environment of TU Delft, and Het Nieuwe Instituut in Rotterdam, who enable the work of the Jaap Bakema Study Centre.
Keywords:
Ethnography, Architectural Education, Architectural Research, Jaap Bakema Study Centre
Copyright (c) 2021 Dirk van den Heuvel, Fatma Tanış, Sun Ah Hwang
License
This work is licensed under a Creative Commons Attribution 4.0 International License.