Sixth Annual Conference
ARCHITECTURE  AND DEMOCRACY 1965–1989
Urban Renewal, Populism and the Welfare State
Downloads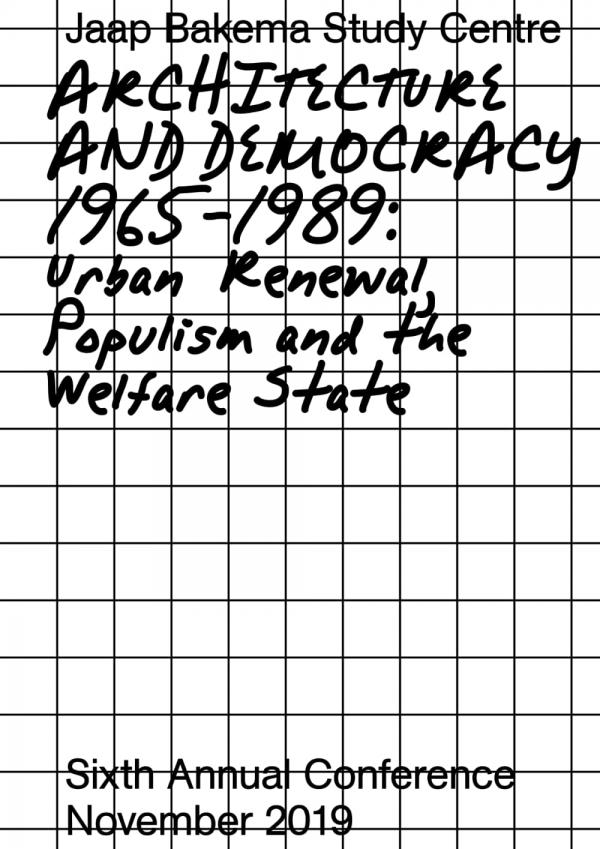 Synopsis
Sixth Annual Conference November 2019 - Jaap Bakema Study Centre
The Jaap Bakema Study Centre was established in 2013 as a collaboration between Het Nieuwe Instituut and TU Delft's Faculty of Architecture and the Built Environment. The goal was and is to instigate academic research in the fields of architecture and urban planning based on the rich holdings of the State Collection of Dutch Architecture and Urbanism, which is accommodated by Het Nieuwe Instituut. Not only between Delft and Rotterdam, but also together with third parties depending on the scope of each project. In 2019 and 2020 the Jaap Bakema Study Centre collaborates with the Calouste Gulbenkian Museum in Lisbon for the museological project 'Art on Display 1949–69', which revisits the special relationship between art and architecture and the involved conceptual exchanges between the two disciplines.
This year's edition, Architecture and Democracy, focuses on the years 1965 to 1989, in which welfare state arrangements were contested by counterculture movements and the rise of populism. While government institutions sought a proper response, urban renewal and city repair became a new field of work for architects and planners. The focus on Architecture and Democracy was chosen in connection with the start of the new PhD-programme of the same name. Starting in 2018, the research group Architecture, Culture and Modernity was established at TU Delft by my colleague Jorge Mejia Hernandez and myself. The new PhD-programme Architecture and Democracy is at the core of the group's research work. It reframes much of our long-lasting interest in the post-war histories of architecture and planning, modern architecture and the welfare state.
For the purpose of the conference and the overall research programme the two terms of Architecture and Democracy are deliberately juxtaposed next to one another. Their interrelationships are manifold as they are complicated. The collection of twenty papers, the archive presentations and the keynote lecture by Esra Akcan, that make up the full programme of the conference make this crystal clear in a most eloquent way. Looking at the contributions brought to the conference, the question of the place of democracy in architecture and vice versa, is answered by investigations into social justice and how this plays out into space, especially urban space, by ways of contestation, appropriation, planning and design, from practices of direct democracy and participation to the critique of institutional policies. To refocus once again on the political and ideological dimensions of architecture, is in function of a reflection on and a speculation about the societal relevance of our work. And as such, it also aims to critically probe the autonomy of the architectural discipline, to redefine the values of our work, and to explore the possibilities of alternatives to current models of knowledge production. 
Keywords:
Urban Renewal, Populism, Welfare State, Jaap Bakema Study Centre, Architecture, Democracy
Copyright (c) 2019 Dirk van den Heuvel, Soscha Monteiro de Jesus, Sun Ah Hwang
License
This work is licensed under a Creative Commons Attribution 4.0 International License.